Microsoft Surface Go 2
The original version of Surface from Microsoft came almost 2 years ago in late 2018. However, it was obviously behind and lacking some features. Some even said it was not very versatile, did you think the same?
The global pandemic situation is causing a lot of cancellations. I think Microsoft was either too prepared for this situation or not prepared at all so they had to let out the product. But now since it is already here, there's no looking back now.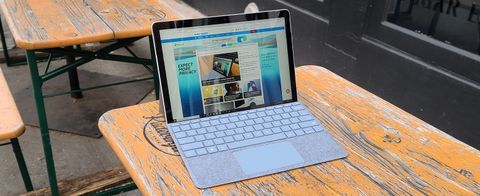 Features Of The Device
let's have a quick look at some of its features (also drawbacks):
The major factor is its low low price. How low? Just $399. This might explain the drawbacks.
You will have the windows 10 experience if you get this version.
The first noticeable negative point is, there isn't any keyboard. You'll immediately understand it's needed because of the build, which will cost you a minimum of $80 again.
If you want better interiors, the $600+ which has Intel Core M3. Plus, it has better RAM too.
I think the biggest positive point here is the size of the thing, which isn't big at all. The original size is actually very convenient and you can increase the screen size by half an inch (not much, yet acceptable).
There are obviously some other points too, but the above mentioned are major. I personally love the kickstand of the device, I remember when it was being heavily advertised. What's your favourite addition to this?
Also Read: When Can The Fans Expect To Get The Beastars Anime Series Season 2 On Our Screens?
A Chance To Win Microsoft Surface Go 2
This device is absolutely perfect for all those users who want a PC but want it to be small yet perfect. Don't want to buy one yet? Enter the contest and have a chance to win it instead!
Fill the form here to have a chance at winning one of these latest devices. The best part is, people from countries all over the world can apply! Just 2 days remaining, hurry and hope for the best. I've filled the form, when will you?
Also Read: Katie Miller The Government Official Has Tested Positive For The COVID-19 Coronavirus!