Having Anti-Racial Slur Written On The Back Window Of The Truck Cost The Owner His Job: A pickup truck was in Lincoln, Nebraska whose back window displayed "Fuck the N****s" on it. On 5th September 2020 at around 5 p.m., a 2002 Chevrolet Silverado K1500 was found driven to Gateway Mall near 61st and O streets.
A picture of this truck with slur was taken and shared on Twitter after which the truck owner got widely criticised on social media. The owner of this truck was as Austin J. Cordis, 21. He got fired from his job.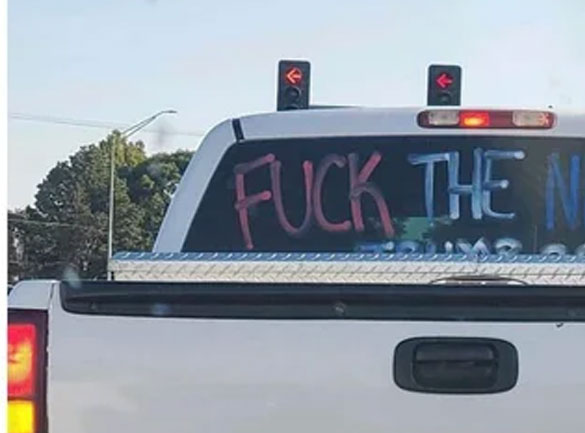 As we can see in the image, they used red, white and blue colours to write the slur on the truck. We can also see "Trump 2020" written below the offence.
Truck Owner Defends Himself
Cordis denied having written the message. He claimed that he was inside the mall for about 20 minutes. When he returned to his truck, he found the slur written on his vehicle. He also tells that some other cars were also "marked up". He took the car to a car wash about three blocks away to get the message washed off.
Cordis believes that it was an act of some stupid vandal. The Lincoln Police Department told that no case of vandalism reported to them. The Gateway Mall security also denies seeing any act of vandalism.
People's Reactions!
Rex Chapman, an American retired professional basketball player, made proper use of his social media influence by retweeting the image. Some other Twitter users told that they have also seen some more vehicles with pro-Trump messages written on them. Leirion Gaylor Baird, the mayor of Lincoln, was disgusted to see this.
He expressed his disgust by tweeting "This is horrific". He also suggested that the people deserve better than this and such threatening acts of racism are not tolerable either by the community or the country.
Also, read BLACKPINK ft Selena Gomez's Ice Cream Or BTS Dynamite: Fans have got to choose!