Hollywood Calls The First Presidential Debate As "The Worst Thing They Have Ever Seen!": The first Presidential debate just got over, and we have our Hollywood stars reacting to it. Being stars, it is always easy for them to share and express their opinions. With social media platforms, it has become more comfortable. Many Hollywood stars called the debate so stupid and dumb that they consider their movies better than that.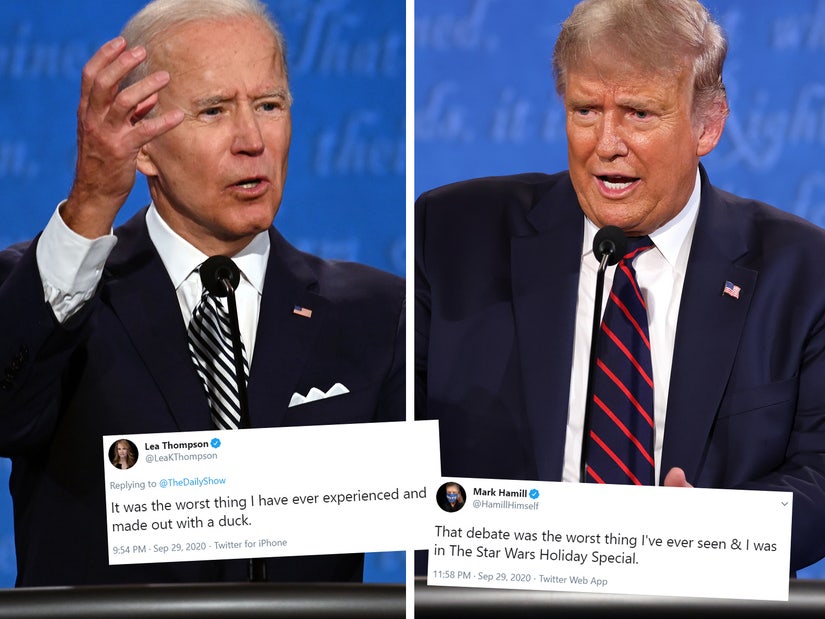 It Was A "Shitshow"
On the presidential debate, Trump hasn't discussed anything important. The focus shifts from important to not so important things. He also interrupts the Proud boys to " stand back" and " stand by" and fails yo denounce white supremacists. All of which raised to criticisms not only from people but also from famous stars.
Tweets From Screen Writers And Stars
"That was a hot mess inside a dumpster fire inside a train wreck," said Jake Tapper after it wrapped up — and many in Hollywood felt the same way. Many screenwriters also started comparing their work with the debate Jeremy Slater tweeted out, "That was the worst thing I've ever seen, and I wrote FANTASTIC FOUR," referring to the 2015 box office bomb.
Other Screen Writers That Followed
The most important of them would include "Howard the Duck" star Lea Thompson, "Star Wars" alum Mark Hamill and the writers of movies like "Baywatch," "Street Fighter: The Legend of Chun-Li" and the Whoopi Goldberg film "Eddie,"  that included Trump in a cameo role.
There were a lot of other tweets which was quite funnier. Hollywood is known for making fantasy things seeming to be real. Those were often beyond our logical thinking. But President's illogical debate is far better than their movies. We can come to know this through the following tweets.
"It was the worst thing I have ever experienced, and I made out with a duck," tweeted out Thompson, who, yes, did share some PDA with the titular character in "Howard the Duck."
"That debate was the worst thing I've ever seen & I was in The Star Wars Holiday Special," tweeted Hamill." Sharknado" creator Thunder Levin played along too, writing, "That #debate was the worst thing I've ever seen, and I wrote #Sharknado! It was so bad, it was bad!"
The first presidential debate has rocked Hollywood with unique tweets from them. Let us see what lies for the next debate.
Also, Read Donald Trump Ignores Tax Questions & A New Issue In First Presidential Election