New Tax Treaty Engine introduced on SprintaxTDS software
SprintaxTDS launch new Tax Treaty Engine
Every year, the proper documentation and withholding of tax from nonresidents becomes a bigger issue for organizations around in the US.
Exactly how a nonresident should be taxed depends on a number of unique circumstances including where they're from, the type of income they are earning and the amount of time they have spent in the US.
Staying on top of these requirements has become a significant challenge for payroll office staff in a plethora of different industries.
The correct determination and application of tax treaty benefits to employee paychecks is particularly challenging.
After all, the US has signed tax treaty agreements with 66 different countries.
And exactly how these treaty agreements are applied depends on the circumstances of each individual employee.
Sadly, there is no 'one-size-fits-all' approach that can be taken and looking up tax treaty articles via IRS website can take a very long time if you're not sure where to look for this information!
With that in mind, at SprintaxTDS, we are delighted to launch a brand new Tax Treaty Engine within our Tax Determination System.
By using this tool, you can easily discover the availability of a tax treaty for your nonresidents within seconds.
What is the SprintaxTDS Tax Treaty Engine?
The Tax Treaty Engine is now available to all SprintaxTDS users.
This is an invaluable tool in the identification of potential tax treaty benefits for your nonresidents.
To identify if there is a tax treaty available, all you need to know is the correct income code and country of residency for the relevant employee/nonresident.
Once you enter this basic information, our Tax Treaty Engine will provide you with an outline of whether there is a potential tax treaty available to them, as well as including the article, limit and time period involved.
We will also direct you to the specific passage of the treaty agreement, should you require any further information.
Let's take a look at some examples.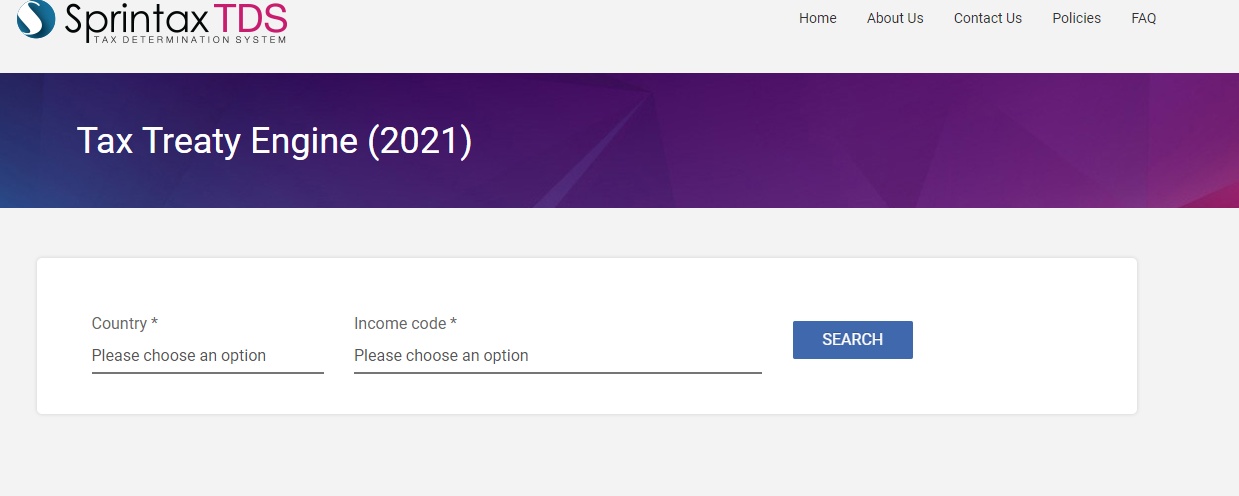 Case study – F-1 student
Lin is a Chinese F-1 student working in a new position in California.
By entering some basic details into the Tax Treaty Engine, payroll staff can check whether or not Lin may be entitled to any benefits.
In this case, China should be selected as the relevant country and income code 20 (compensation during studying and training) should be chosen from the drop down menu.
And, as we can see in this case, our engine has correctly determined that Lin may be entitled to benefits if she meets the treaty article conditions.
As Lin is a student who was living in China before arriving in the US, she may well be exempt from tax on the income (not in excess of $5,000) she earns from her job in the US according to the treaty article.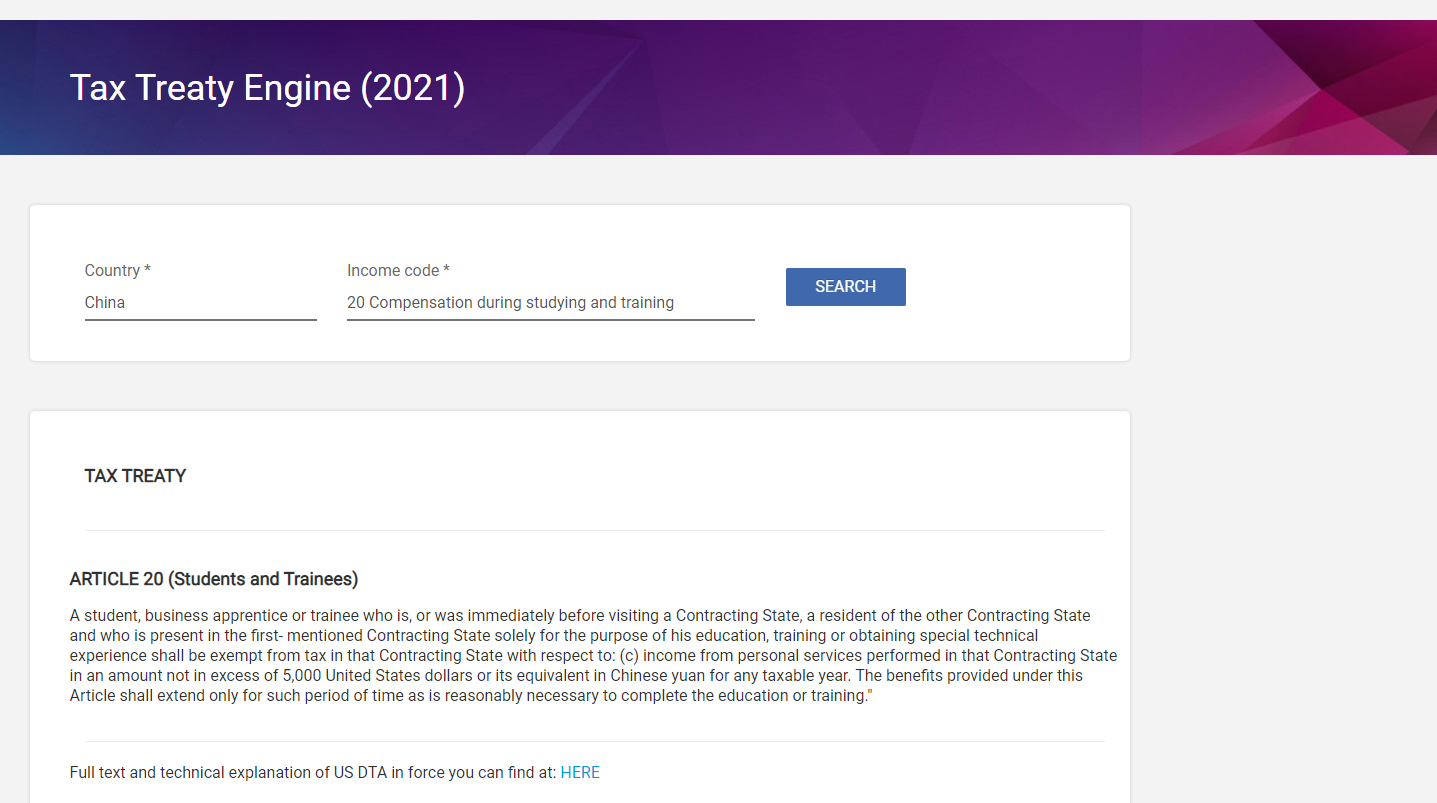 Case study – J-1 teacher
Ishan arrived in the US in January on an J-1 visa. He is now teaching at a University in New York.
Staff at the university can quickly check whether or not Ishan may be entitled to any tax treaty benefits.
To do so, they can enter India in the country field and select income code 19 (compensation for teaching) from the drop down menu.
Our Tax Treaty Engine quickly determines that there is a tax treaty available for this type of income between India and the USA.
As he has not been in the US for more than two years for teaching purposes, he may be entitled to claim a tax exemption on his income.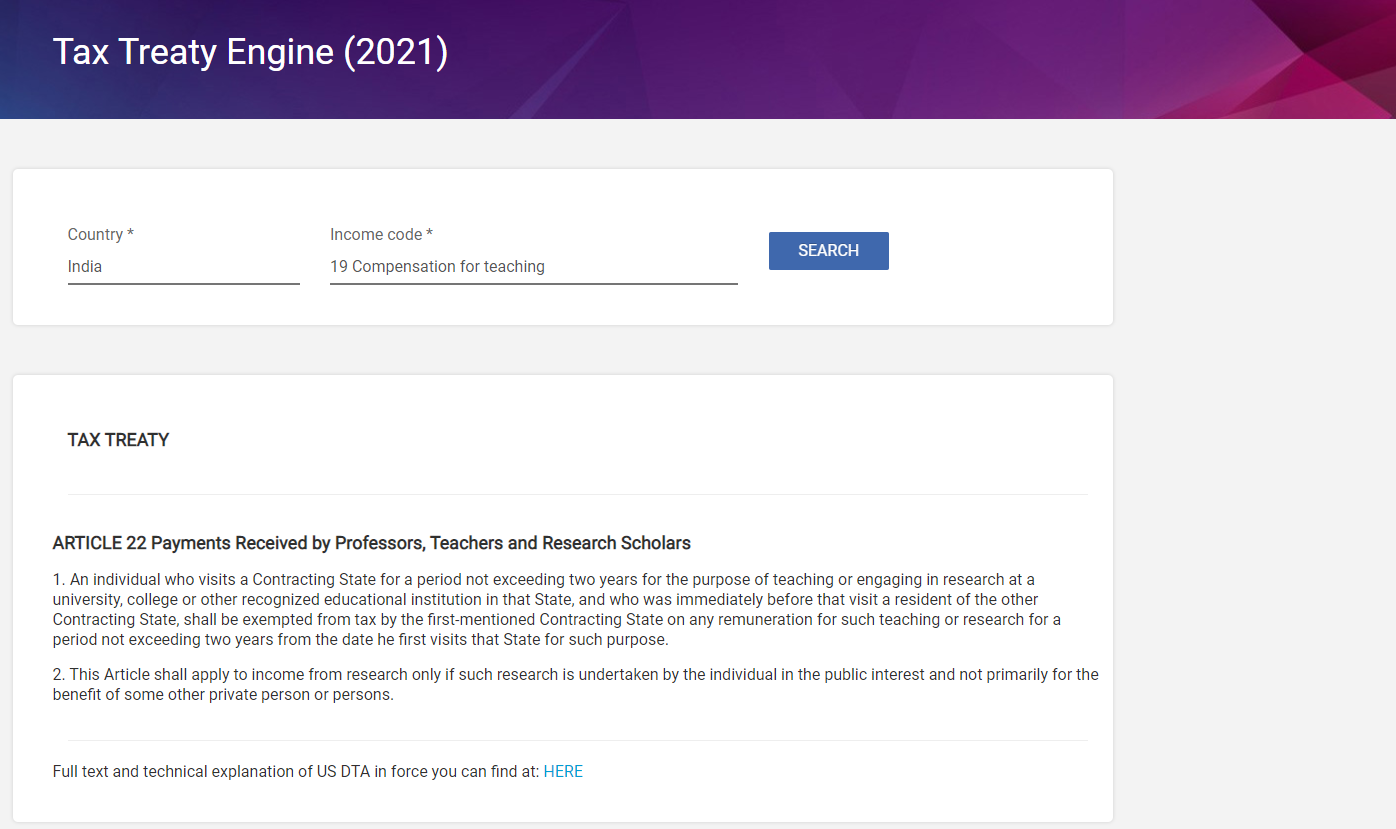 Register for a FREE SprintaxTDS demo here
If you hire nonresidents at your organization, SprintaxTDS can help you to manage their tax profile.
SprintaxTDS is a tool that ensures nonresidents are taxed correctly from their first day working in the US – so that the right amount of tax is withheld from their earnings and reported to the IRS.
A cloud-based payroll software, SprintaxTDS is already working with hundreds of educational institutions all over the US.
Why SprintaxTDS?
Cloud-based, secure and automated nonresident tax solution

Determine Residency and Tax Treaty Eligibility. Calculate tax withholding rates

 

Instant generation of tax forms (such as 1042-S, W-4, 8233, W8-BEN and more) in seconds

Easy to use admin & dashboards. Advanced Reporting tools
To find out more about how SprintaxTDS can help your organization, why not register for a free, no-obligation demonstration here.
Hey I'm Stacy!
I'm dealing with US taxes and can't wait to help you prepare your tax return!
I've been working with taxes for like forever, so you can totally trust my expertise.
Sprintax can make things much easier for you.
Check out my blog posts and feel free to ask me any questions.
Why did file sharing drive so much startup innovation?
One of the great things about editing all of our deep-dive EC-1 startup profiles is that you start to notice patterns across successful companies. While origin stories and trajectories can vary widely, the best companies seem to come from similar places and are conceived around very peculiar themes.
To wit, one common theme that came from our recent profiles of Expensify and NS1 is the centrality of file sharing (or, illegal file sharing if you are on that side of the fence) and internet infrastructure in the origin stories of the two companies. That's peculiar, because the duo honestly couldn't be more different. Expensify is an SF-founded (now Portland-based), decentralized startup focused on building expense reporting and analytics software for companies and CFOs. New York-based NS1 designs highly-redundant DNS and internet traffic performance tools for web applications.
Yet, take a look at how the two companies were founded. Anna Heim on the origins of Expensify:
To truly understand Expensify, you first need to take a close look at a unique, short-lived, P2P file-sharing company called Red Swoosh, which was Travis Kalanick's startup before he founded Uber. Framed by Kalanick as his "revenge business" after his previous P2P startup Scour was sued into oblivion for copyright infringement, Red Swoosh would be the precursor for Expensify's future culture and ethos. In fact, many of Expensify's initial team actually met at Red Swoosh, which was eventually acquired by Akamai Technologies in 2007 for $18.7 million.

[Expensify founder and CEO David] Barrett, a self-proclaimed alpha geek and lifelong software engineer, was actually Red Swoosh's last engineering manager, hired after the failure of his first project, iGlance.com, a P2P push-to-talk program that couldn't compete against Skype. "While I was licking my wounds from that experience, I was approached by Travis Kalanick who was running a startup called Red Swoosh," he recalled in an interview.
Then you head over to Sean Michael Kerner's story on how NS1 came together:
NS1's story begins back at the turn of the millennium, when [NS1 co-founder and CEO Kris] Beevers was an undergrad at Rensselaer Polytechnic Institute (RPI) in upstate New York and found himself employed at a small file-sharing startup called Aimster with some friends from RPI. Aimster was his first taste of life at an internet startup in the heady days of the dot-com boom and bust, and also where he met an enterprising young engineer by the name of Raj Dutt, who would become a key relationship over the next two decades.

By 2007, Beevers had completed his Ph.D. in robotic mapping at RPI and tried his hand at co-founding and running an engineered-wood-product company named SolidJoint Research, Inc. for 10 months. But he soon boomeranged back to the internet world, joining some of his former co-workers from Aimster at a company called Voxel that had been founded by Dutt.

The startup provided a cornucopia of services including basic web hosting, server co-location, content delivery and DNS services. "Voxel was one of those companies where you learn a lot because you're doing way more than you rightfully should," Beevers said. "It was a business sort of built out of love for the tech, and love for solving problems."

The New York City-based company peaked at some 60 employees before it was acquired in December 2011 by Internap Network Services for $35 million.
Note some of the similarities here. First, these wildly different founders ended up both working on key internet plumbing. Which makes sense of course, since back two decades ago, building out the networking and compute capacity of the internet was one of the major engineering challenges of that period in the web's history.
Additionally in both cases, the founding teams met at little-known companies defined by their engineering cultures and which sold to larger internet infrastructure conglomerates for relatively small amounts of money. And those acquirers ended up being laboratories for all kinds of innovation, even as few people really remember Akamai or Internap these days (both companies are still around today mind you).
The cohort of founders is fascinating. Obviously, you have Travis Kalanick, who would later go on to found Uber. But the Voxel network that went to Internap is hardly a slouch:
Dutt would leave Internap to start Grafana, an open-source data visualization vendor that has raised over $75 million to date. Voxel COO Zachary Smith went on to found bare metal cloud provider, Packet, in 2013, which he ran as CEO until the company was acquired by Equinix in March 2020 for $335 million. Meanwhile, Justin Biegel, who spent time at Voxel in operations, has raised nearly $62 million for his startup Kentik. And of course, NS1 was birthed from the same alumni network.
What's interesting to me with these two companies (and some others in our set of stories) is how often founders worked on other problems before starting the companies that would make them famous. They learned the trade, built networks of hyper-intelligent present and future colleagues, understood business development and growth, and started to create a flywheel of innovation amidst their friends. They also got a taste of an exit without really getting the whole meal, if you will.
In particular with file sharing, what's interesting is the rebellious and democratic ethos that came with that world back at the turn of the millennium. To work in file sharing in that era meant fighting the big music labels, overturning the economics of entire industries, and breaking down barriers to allow the internet economy to flourish. It attracted a weird bunch of folks — the exact kind of weirdness that happens to make good startup founders, apparently. It echos one of the key arguments of Fred Turner's book, "From Counterculture to Cyberculture."
Which begs the question then: what are the "file sharing" markets today that these sorts of individuals congregate around? One that seems obvious to me is blockchain, which has precisely that balance of rebelliousness, democratization, and technical excellence (well, at least some of the time!) And then there are the modern-day "pirates" today such as Alexandra Elbakyan who invented and has operated Sci-Hub to make the world's research and knowledge democratized.
It's maybe not the current batch of companies that we see which will become the next extraordinary unicorns. But watch the people who show up in the interesting places — because their next projects often seem to hit gold.
Zomato raises $562 million from anchor investors ahead of IPO
Indian food delivery startup Zomato said on Tuesday evening that it has raised $562.3 million from its anchor investors ahead of IPO opening on Wednesday.
Zomato, which counts Ant Financial  has already secured nearly 45% of the $1.3 billion it plans to raise through the IPO, the 12-year-old Gurgaon-headquartered startup revealed in a filing to local stock exchanges. The public share sale will open on Wednesday and close Friday.
Tiger Global, Fidelity, New World, Baillie Gifford, Government of Singapore, Canada Pension Plan, Mirae Asset, T. Rowe Price, and Steadview are among the investors that are backing the startup in the public markets.
The investors have subscribed the shares at Rs 76 ($1) — the upper end of the price range for Zomato' shares — giving the Indian startup an implied valuation of $8.6 billion, up from $5.4 billion in February this year.
The oversubscription illustrates the confidence high-profile investors are placing in the world's second largest internet market's first real consumer internet offering.
In a virtual press conference last week, Zomato executives said the startup, which has search and discovery in nearly two dozen markets, will focus largely on India and will explore categories such as online grocery delivery in the future.
The executives also dismissed Amazon as a serious competitor for now. "There's no major impact on market share from Amazon so far," the company's chief financial officer said. Amazon entered the food delivery market last year and is operational in just Bangalore for now. Swiggy, backed by SoftBank Vision Fund 2 and Prosus Ventures, is Zomato's chief rival in India.
For the financial year that ended in March this year, its revenue was down 23% to $283 million, and it also shrank its losses to $110 million, down 66% from the same period a year ago.
Where is suptech heading?
Technology plays a huge role in nearly every aspect of financial services today. As the world moved online, tools and infrastructure to help people manage their money and make payments have burgeoned the world over in the past decade.
With much of the finance world now leveraging technology to conduct business, predict trends and deliver services, financial services regulators are also developing new technologies to monitor markets, supervise financial institutions and conduct other administrative activities. The emergence of purpose-built technologies to facilitate regulator oversight has, over the past few years, garnered its own moniker of supervisory technology, or suptech.
Interest in suptech is proliferating across the globe thanks to a diverse set of prudential and conduct regulators. A sampling of regulators developing suptech include the FDIC, CFPB, FINRA and Federal Reserve in the U.S.; the U.K.'s FCA and Bank of England; the National Bank of Rwanda in Africa; as well as the ASIC, HKMA and MAS in Asia. Several "super regulators" are also engaged in suptech efforts such as the Bank of International Settlements, the Financial Stability Board and the World Bank.
The strides in suptech demonstrate that creative thinking coupled with experimentation and scalable, easily accessible technologies are jump-starting a new approach to regulation.
In this post, we'll examine a few core suptech use cases, consider its future and explore the challenges facing regulators as the market matures. The uses are diverse, so we'll focus on three key areas: regulatory reporting, machine-readable regulation, and market and conduct oversight.
A quick general note: Nearly every financial services regulator is engaged in some type of suptech activity and the use cases discussed in this article are intended as a sample, not a comprehensive list.
But what exactly is suptech?
As a preliminary matter, we should quickly survey a few definitions of suptech to frame our understanding. Both the World Bank and BIS have offered definitions that provide useful outlines for this discussion. The World Bank states that suptech "refers to the use of technology to facilitate and enhance supervisory processes from the perspective of supervisory authorities." It's a little circular, but helpful.
The BIS defines suptech as "the use of technology for regulatory, supervisory and oversight purposes." This is a similarly loose definition that describes the broader scope better.
Regardless of differences on the margins, the "sup" in these suptech definitions acknowledges the primacy of the idea that regulators' objectives are to oversee the conduct, structure, and health of the financial system. Suptech technologies facilitate related regulatory supervision and enforcement processes.
Regulatory reporting
Regulatory reporting refers to a broad swath of activities such as financial firms providing trading data to regulatory authorities and regulators' analysis of financial data or corporate information to determine the projected health or potential risks facing an institution or the market.
The MAS and FDIC are incorporating transactional and financial data reported by firms as a means to assess their financial viability. The MAS, in conjunction with BIS, has run tech sprints soliciting new ideas relating to regulatory reporting, while the FDIC has "a regulatory reporting solution that would allow 'on-demand' monitoring of banks as opposed to being constrained by 'point-in-time' reporting. This project is particularly targeted at smaller, community banks that provide only aggregated data on their financial health on a quarterly basis."
The HKMA recently outlined its three-year plan for the development of suptech, which includes developing an approach to "network analysis." The HKMA will analyze reporting data related to corporate shareholding and financial exposure to bring them "to life as network diagrams, so that the relationships between different entities become more apparent. Greater transparency of the connections and dependencies between banks and their customers will enable HKMA supervisors to detect early warning signals within the entire credit network."
These reporting initiatives touch on a theme regulators have continuously struggled with: How to regulate markets and firms based on a reactive approach to historical data. Regulation and enforcement are often retrospective activities — examining past behavior and data to decide how to sanction an organization or develop a regulatory framework to govern a particular type of activity or financial product. This can result in an approach to regulation too rooted in past failures, which might lack the flexibility to anticipate or adapt to emerging risks or financial products.