It's in September Now. And still, we don't have a proper solution for this coronavirus. The vaccine has been found, but the delay in coming to use is increasing the problems for common people. People are waiting for the government to support them with stimulus checks, but it is not coming true. Both the parties don't agree with each other, and this is the reason for the delay.
Caption Nancy Pelosi
Source via Newsweek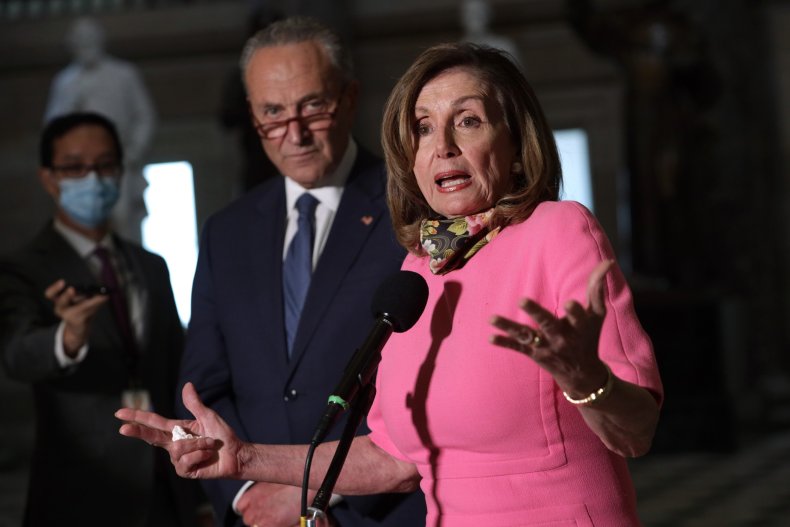 Nancy Pelosi's Recent Statement
Nancy Pelosi, on Thursday strictly suggested that Democrats would refuse any offer below $ 2.2 trillion. When People's needs are greater, we need to provide huge to satisfy it. Nancy says "When we go into a negotiation, it's about the allocation of the resources, "But it's hard to see how we can go any lower when you only have greater needs."
Trump Wants To Win Elections
President Donald Trump wants a larger amount to be distributed, which will increase his chances to win re-elections in November. He urged the Republicans on Wednesday to pass the $1200 stimulus checks. He wants to be favourably on people's side at this needy time
Pelosi Wants More
Pelosi argues that just checks are not enough at this time. We need to do more than that. She says "All they want is to have the President's name on a check going out. That's all he really cares about, "We have to do more than just have the Republicans check a box."
She also rejected a relief framework introduced by the bipartisan Problem Solvers Caucus, which proposed a slimmed-down $1.52 trillion. It also included the $1200 stimulus checks. But Pelosi was firm in her decision.
It is just the Blame Game.
Both the parties want to provide funds to the needy Americans, but neither of them had initiated it. The arguments and disagreements seem never-ending. Democrats blame the Republicans for not providing enough funds, while on the other hand republicans accuse democrats of using the situation to build their political agenda.
Well, we are not in a situation to argue further, and immediate action is needed for the betterment of people's lives.
Also, Read Controversy With Nancy Pelosi Forces eSalon Owner Erica Kious To Close Down Business And Move Out Of San Francisco!