Tori Spelling
Tori's original name is Victoria Davey Spelling. She is a socialite, television personality, American actress and author. However, Tori gains popularity for her first major role, Donna Martin, on Beverly Hills. She has appeared in The actress also appears in made-for-television films. 
Some of her notable films include A Friend to Die For, The Mistle-Tones and A Carol Christmas. She is also a part of several independent films including Trick, The House of Yes, Cthulhu, Scary Movie 2, Izzie's Way Home and Kiss the Bride.
So, let us now see something special that made the actress move onto the headlines.
Tori Spelling Shares Her Throwback Birthday Pictures
Recently, a few days back, the 90210 star celebrated her 47th birthday with her five kiddos on Saturday. Fans are blown by surprise that the actress is reminiscing all of her amazing birthdays that she celebrated over the past years.
Tori Spelling's Instagram Post
However, Tori posts all these pictures on her Instagram. This took the fans to the excitement. She even shares a caption that says "With my Birthday almost over I reflect on the amazing day I had with my family and just some of the amazing bdays I've celebrated over the years".
Along with this, she shares some of her memorable pictures from her past birthdays. She also posts a picture of her Saturday's birthday that she celebrated with her five children.
The 90210 Star Thanks Everyone
Tori Spelling thanks everyone for making all her birthdays amazing over the past years. She continues calling her journey as an incredibly empowering and humbling ride. However, the actress starts sharing her picture gallery since her eighteenth birthday that lasts until her present one.
Also, read COMMITTED!! Jaden Smith Is Dating Tyler, The Creator.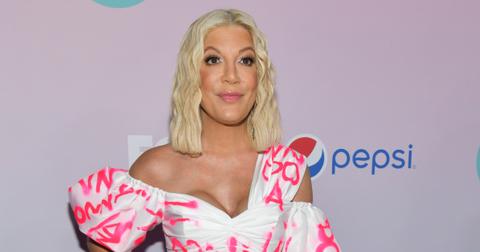 Spelling's Family
Along with this post, she also introduces her family members. The first most exciting thing is her five kids. Her family includes her sons Liam, Beau, and Finn along with the father, Dean McDermott. She also has two daughters Stella and Hattie.
On the other hand, Tori's close friend Jennie Garth also shares a sweet birthday tribute to her friend.