"White Lives Matter" Painted Anonymously On A Kent State University Rock: After the uproar of the Black Lives Matter protesters, some individuals have started protests that mock the 'white privilege,' saying that White Lives Matter. Here are the details about these protests.
The Motive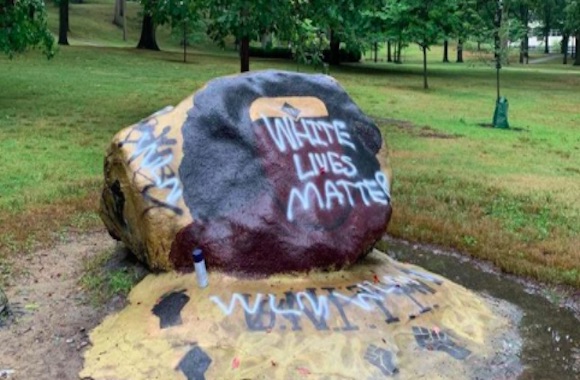 The last week of August saw something new this year. We all are aware that Jacob Blake got shot by police because he was black. Its hardly been some days yet an anonymous person had the courage enough to paint White Lives matter on Kent State University's front-campus rock. Some people have comprehended that it is a direct warning to black people.
According to sources, they painted it over the Black Lives Matter, which was there a few days ago.  The rock is accessible to anyone willing to write a message. However, according to the Anti-Defamation League, White Lives Matter is a racist response which developed in the year 2015.
What Marteashia Thompson, The President Of The Student Group Voices Of Colour Has To Say?
Marteashia Thompson, president of the student group Voices of Colour, also has something to say. She said:
"White Lives Matter does not represent unity and isn't an inclusive slogan at all. This isn't something to uplift Caucasian Americans. This is only a term and rebuttal to the Black Lives Matter movement."
The president of the university has firmly said that an Anti-Racism Taskforce will now be in created. Its job would be to collect all the information regarding racism in the university. It was a cruel thing to do, although she did not want to retaliate against the writer.
What Does The Incident Indicate?
Black United Students [BUS] president Tayjua Hines said that the incident wasn't a surprise for her. She had expected a sort of counter-reaction to Black Lives Matter. She also mentioned that the painting was only a mild comparison to what people of colour face daily in and outside the campus.
It clearly shows that the university, schools and the whole country needs to be more sensitive towards racism. They should tackle this situation properly. Discrimination and violence pose a significant threat to the integrity of a nation. People need to understand the seriousness of the problem.
Also, read Jacob Blake Is In 24 Hours Of Pain! But He Is Fighting For Black Lives Matter!